Last Updated on October 30, 2023 by Ray Roman
Little Glasses Resort Lake Texoma is a beautiful getaway located on the northern end of Lake Texoma in Madill, Oklahoma. The resort offers covered boat slip rentals and outdoor and indoor boat and RV spaces and is located on Little Glasses Bay.
The resort has a pristine and beautiful environment and is just a short distance from Oklahoma City or Dallas. Little Glasses Resort and Marina is one of the most beautiful getaways on Lake Texoma.
Little Glasses Resort and Marina offer several amenities, including free parking, an electric vehicle charging station, free high-speed internet, WiFi, beach access, airport transportation, covered boat slip rentals, and outdoor and indoor boat and RV spaces. The resort also has Margarita's Deli, where guests can grab a BBQ boat lunch.
Let's dive into more details…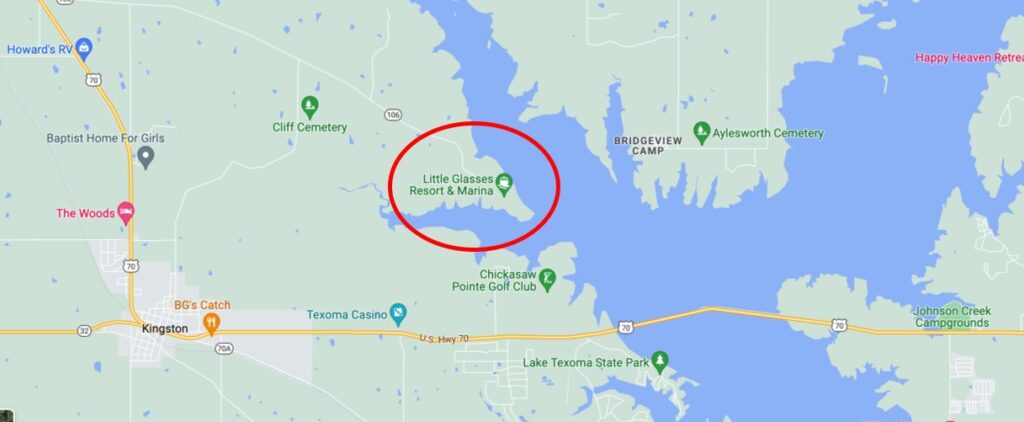 RV Campgrounds (area A)
Little Glasses Resort and Marina have a total of 80 campgrounds. There are 39 waterfront RV sites with:
Water
Electricity and sewer (some pull-through)
Newly constructed bathhouse
Dump station
Picnic table
In addition, there are 41 wooded waterfront camping and RV sites with water, electricity, a bathhouse, a dump station, and picnic tables.
Tent & RV Camping (Area B & C)
There are 41 wooded waterfront camping and RV sites. The sites have:
Water
Electricity
Bathhouse
Dump Station
Picnic Tables
Generators are not allowed, so keep that in mind if you typically camp with a generator.
Like many places with rentals, there are summer and winter rates.
Summer Rate = $33 per night.
Winter Rate = $25 per night
Lodging
Little Glasses Rest offers some lovely Lake Texoma cabin rentals.
Mobile Home and Cabin rentals – Summer rates (April – September) range between $110-$165/per night. Winter rates (October – March) range between $85-$105/per night. 2 nights minimum.
Event Building
Multi-Purpose Building rental for parties, reunions, etc., 5,200 sq ft with restrooms, dressing rooms, commercial kitchen, bar area, big outdoor charcoal grill, and patio. Rental includes tables and chairs. Daily rates are $575.00, weekend rate $1100 for the whole weekend (Fri-Sun)
Covered Pavilion
The covered pavilion with water and electricity overlooks the lake with parking and large tables on a concrete pad. Pavilion rental – $40.00 per day
Golf Cart Rentals
Need a golf cart? You can rent one at a daily rate or for the weekend. Call the store for rates and details: 580-795-2068
RV and Boat Storage
Little Glasses offers open and dry storage if you need to store your RV. Open storage costs $35 per month. Dry storage is $55 per month. Either can be used for RV or boats, or trailers.
Boat Slip Rental
At Little Glasses, you can rent a boat slip. They have various sizes, and rentals are based on availability. You will need to commit to a 1-year contract. They also have dockominiums. For boaters' convenience, they have a large boat ramp you can use.
Full-Service Marina
The full-service marina includes dock gas and a ship store where you can purchase almost anything your boat needs.
There is also a full-service maintenance and marine shop for most personal watercraft and boats.
You should try one of their BBQ or deli boat lunches from our famous Margarita's Deli. We've had them, and they are very good.
Activities Around Little Glasses Resort
You will find many things to do close to Little Glass. There are five Lake Texoma casinos a few are very close to Little Glasses Marina and Resort. If you want to go striper fishing, there are Lake Texoma fishing guides you can hire.
If golfing is your thing, these are the 10 best Lake Texomaa golf courses you can play at. If you want to explore, visit Lake Texoma Juniper Point; it's a nice park with beautiful lake views and a hiking trail.
Reviews
Overall Little Glasses Resort Lake Texoma gets very favorable reviews on Google. Its 4.3-star rating is well deserved. Here are a few snippets of current reviews.
Beautiful campgrounds, great people, a great lake, and clean restrooms. Can't beat that!
Always love coming here. It's the views and relaxation that really make the drive worth the while.
To be fair, several reviews rated Little Glasses low due to the owner or camp monitor being rude. Personally, we've never encountered anyone being impolite. If it has happened, hopefully, the owners will fix it.
Location
Address: 13443 Parrot Head Ln, Madill, OK 73446
Telephone: (580) 795-2068
Website: Little Glasses Resort and Marina
Little Glasses Resort Lake Texoma Final Thoughts
Having been to Little Glasses Resort, Lake Texoma, quite a few times, we think you will really like it. The view from many of the RV sites is incredible, the rental cabins are well-kept, and the dock and boat ramp is very convenient. We highly recommend Little Glasses.
Further Reading: