Last Updated on July 4, 2023 by Ray Roman
If you were to google Lake Texoma RV Parks (which I'm guessing you already did, and that is how you ended up here), you'll get back so many results that it can be hard to sort through.
Camping at an RV park is an affordable way to visit Lake Texoma and costs less than many Lake Texoma hotels.
We've taken the time to filter through all those results for you and have compiled a list of some of our favorite Lake Texoma RV Parks!
These Lake Texoma RV parks are listed in no particular order and we've also chosen parks of varying sizes and amenities in the hopes we'd be able to find something for everyone.
Lake Texoma Hill Top RV Park
Lake Texoma Hill Top RV Park is a new park. It is one of the many family-owned Lake Texoma RV Parks in the area and opened in the fall of 2021. This RV Park is located on 27 acres of beautiful land near Lake Texoma. If you want a break from the lake they are about 8 minutes from the Choctaw Casino.
The owners of Lake Texoma Hill Top RV Park have high hopes for the future and plan to build a public restroom, laundromat, pool, storage, and for those severe spring thunderstorms a public storm shelter.
Rates for this park vary depending on the location of the spot or whether or not it is a pull-through or back-in location but you could expect to pay a daily fee of $22-$42. Each site does contain full hook-ups and are 14'x60′ in size. Weekly and monthly rates are available through the website and by speaking with a park representative.
The park has a check-in time between 1:00 PM and 6:00 PM. Check-out time is 11:00 AM. Quiet time is from 10:00 PM – 8:00 AM. Leashed dogs are allowed.
Their website contains a list of their general rules for any specific questions you may have.
To contact a Lake Texoma Hill Top RV Park representative call or visit their "Contact Us" section found on their website toward the bottom of the main page.
Lake Texoma Hill Top RV Park
4502 US 70
Mead, OK 73449
580.745.9180
https://www.texomahilltoprvpark.com/
Lake Texoma RV Resort
Paul and Lisa Tyson purchased the old Henderson Camp and completely renovated the park and opened it in April of 2017 as Lake Texoma RV Resort.
This family-friendly, gated Lake Texoma RV Park features 46 RV sites that are 20'x60′ and 20'x70′ that have water and sewer hookups as well as 20/30/50 amp service. Each site is made from level concrete, has a private picnic table, and has 24-hour surveillance.
Around the resort, you will find a 3,000 sq ft clubhouse, an office, and a small store. The clubhouse contains a laundry facility, a restroom, and showers. Also in the clubhouse is an area for relaxing that includes a large screen tv, tables and chairs, and games.
Additional amenities of this resort include a gated dog park, free wi-fi, free DirectTV, a pool, a bbq pavilion, and an outdoor gas fire pit. Also on the resort is a 24-hour facility that has a fitness center, restrooms, showers, a laundry area, and a storm shelter.
Rates vary between $55 – $70 a night depending on the location and type of site you select. All rates include 3 people with a maximum of 4 guests per site.
Additional guest fees may apply. They do require a minimum 3 night stay on holidays or during special events. Weekly and extended stay rates are available by contacting Lake Texoma RV Resort.
Check-in is 1:00 PM and check-out is 12:00 PM.
745 Highport Road
Pottsboro, TX 75076
903.647.7077
https://www.laketexomarvresort.com/
Country Dream RV Park
Opened in May of 2018, the Country Dream RV Park was a creation inspired by a few years of full-time RV living by the owners. They loved the RV life so much that they decided to open their very own park.
They turned a 5-acre plot of land into their dream RV park and have completed the first phase of their opening which included full hook-up, extra-large RV sites with shaded areas, and picnic tables.
Daily rates are $40, weekly rates $170, and monthly rates are available if you call Country Dream RV Park directly.
They do require a non-refundable deposit during the reservation process which is $35 for daily and weekly reservations as well as $100 for monthly reservations. The deposit will be applied to your reservation costs when you check in or forfeited if you do not show up.
They do allow dogs, but, unfortunately, there is a breed restriction for Pit Bulls, American Bulldogs, Rottweilers, and Dobermans.
They also note no aggressive dogs. A full list of dog behavior and leash requirements can be found on their website.
Quiet time is Monday-Thursday 10:00 PM to 7:00 AM. There is a max of 6 guests and two vehicles per site. Reservations include up to 4 people, additional guests are $5 a person for anyone 16 years and older.
8659 Texoma Hills Rd
Kingston, OK 73439
972.632.9720
https://www.countrydreamrvpark.com/
Oakview RV Park
Oakview RV Park is a Lake Texoma RV Park located in Kingston Oklahoma. It has several oak trees that offer an abundance of shade which is always preferred during those hot summer months in Oklahoma.
The park has back-in sites with full hookups that include picnic tables and fire pits.
Rates at Oakview RV park are $36 daily, $180 weekly, and $495 monthly and they do offer a military discount. These rates include 2 guests and any additional guests are $3 a night with a maximum of 5 guests.
There is no set check-in time but they do ask that you notify them when you are within two hours of checking in. Check-out is at noon. A 48-hour notice is required for all cancellations otherwise you will only receive a 50% refund.
Pets are allowed at Oakview RV Park (no more than two pets allowed per site) with a restriction on "aggressive breeds," but there is no list of specific restricted breeds located on their website.
We recommend verifying if your pet qualifies as a restricted breed by calling Oakview before you reserve a spot.
Also worth noting, they may ask to see your current vaccination record for your pets so be sure to have that handy.
11327 Oakview Rd
Kingston, OK 73439
972.838.2707
https://www.oakviewrvpark.com/
Do Drop Inn RV Resort
The Do Drop Inn RV Resort is a family-friendly RV resort offering every amenity you could be looking for. They have a laundry facility, a bathhouse, a clubhouse, and propane filling stations. There is an onsite cafe with other dining options nearby.
They offer a pool that is open from April to October that has a 25-yard lap lane with a hot tub nearby. Free high-speed wifi with 1 gig fiber ports in the clubhouse, 400 meg wifi access points in all the buildings, and a 5G mesh network throughout the park.
There is a gym that includes cardio equipment, free weights, and machines. And our favorite amenity of the resort is they offer kayak and paddleboard rentals.
The RV full-hookup rental spots vary in price and length but you could expect to pay between $42 to $49 a day. If you don't want to bring your RV or don't have one, the resort also offers cabins for around $140 a night or RV rentals for around $150 a night.
A full list of available rentals can be found on their website.
Check-in is between 3:00 PM and 8:00 PM for cabins and after 1:00 PM for RVs. Check-out for all is at noon. Additional guests incur a $5 per day fee and will need to check-in with the office; otherwise, they will be asked to leave.
Pets are welcome as long as they are not aggressive. Cabin and RV rentals require a refundable $250 deposit.
560 Platter Dike Rd
Calera, OK 74730
580.965.3600
dodropinnrv@gmail.com
https://www.dodropinn.com/
RV Texoma
RV Texoma is a rustic, veteran-owned, and operated Lake Texoma RV Park located in Sadler, Texas. The park has been built on land purchased by a couple.
They didn't originally plan to open an RV park on their land, so you'll find this park to be smaller than some of the others, only having eight spaces, but we believe the genuine love of RV'ing and compassion for other RV enthusiasts shared by Michael and Suzee make this one of the best RV parks around Lake Texoma.
This park is geared toward campers who love nature and prefer a more natural experience. They have a walking trail that will take you by a relaxing pond where you could watch birds or just take a minute for yourself.
You won't find a clubhouse or a pool. Just open land with as much untouched nature as possible. Forgoing such amenities allowed the couple to invest in a high-quality electric grid and a well-constructed waste system.
The full hookup spaces at RV Texoma have daily rates of $35. The park is gated and gate access is given after full payment has been received. Check-in is after 1:00 PM. Check-out is by noon. Pets are allowed with the exception of Pit Bulls, Rottweilers, and "any other type known aggressive dog".
1644 Greer Road #732
Sadler, TX 76264
855.788.3966
info@rvtexoma.com
https://www.rvtexoma.com/
Buncombe Creek Resort Marina
Buncombe Creek Resort Marina has an RV park located near the marina. They have full hookups available for $20 a night and only take reservations for Memorial Day, Fourth of July, and Labor Day. They do not allow tent camping.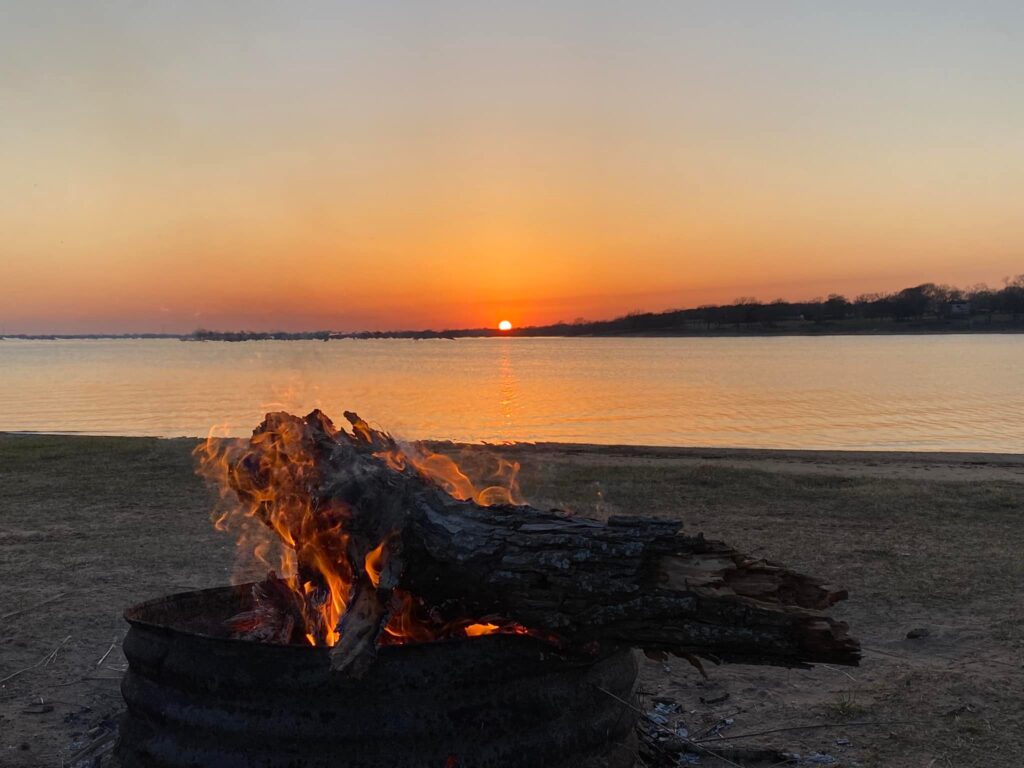 The park overlooks the marina and boasts beautiful sunsets worth stopping to enjoy. Just across the street is a place to fill your belly, the Anchor 'N Restaurant. The marina also offers a gift shop, gas dock, boat slips, ship store, and convenience store.
14584 Arrowhead Point Road
Kingston, OK 73439
580.564.2543
www.buncombecreek.com
Paradise City RV Park
At Paradise City RV Park, you'll find a clubhouse, shower, and laundry facilities, and a store serving pizza.
Rates at this Lake Texhoma RV Park are $30 daily or $450 monthly. The RV park management must approve monthly stays.
The RV site rentals are 80'x50′ and 72'x50′ with gravel pads. They are all full hookup sites, with both back-in and pull-through options available.
Check-in is after 1:00 PM, and check-out is at noon.
10617 US Hwy 377
Kingston, OK 73439
580.221.0398
https://paradisecityrv.com/
Burns Run West
Burns Run West is a Lake Texoma RV Park operated by the Corp of Engineers. It is located on Lake Texoma next to a day-use area with a playground and beach access.
The park has water and eclectic hookups with onsite shower/toilet facilities, a boat ramp, 104 campsites, and three trailer dumping stations.
Electric RV spots will be $26-$28 a day, and tent locations are $16 a day. It is possible to rent a double site for $32 a day. To reserve a spot, visit the recreation.gov link we have listed below.
825 West Burns Road
Cartwright, OK 74731
580.965.4922
www.recreation.gov
Platter Flats
Platter Flats offers 26 campsites with electric and water hookups, 35 equestrian sites with hookups, and 3 equestrian tent sites without hookups.
The equestrian sites do not require a horse to camp there. The campsite is located on the eastern side of Lake Texoma. It is a great place to see wildlife such as deer, turkeys, bobcats, hawks, and songbirds.
Located at this RV park are toilet and shower facilities, a dump station, and a boat ramp and dock.
Rates for each campsite vary based on the season, between $15 to $24 a day. To reserve a spot, visit the recreation.gov link we have listed below.
351 Corps Rd
Denison, TX 75020
580.434.5864
www.recreation.gov
Sunset View RV Resort
Sunset View RV Resort is one of the newer RV parks on Lake Texoma. It's located 2 minutes north of Megastar Casino on Hwy 377. Sunset View offers standard back-in and pull-through RV sites in both standard and premium types.
17578 Keeton Rd,
Kingston, OK 73439
580.579.4024
Lake Texoma RV Parks Final Thoughts
You'll find countless Lake Texoma RV parks on and around the lake. We've listed a few of our favorites and hope we've covered all ranges of parks from the minimum, nature-based to the extravagant resort-like getaways.
There's something for everyone and every budget at Lake Texoma, so gather your necessities, pack up your family and pets, and we'll see you at the lake!