Last Updated on October 30, 2023 by Ray Roman
Tammy and I have visited Pelican's Landing restaurant on Lake Texoma several times. It is where we meet friends for food and drinks and where we take relatives who have come into town for a visit.
We figured it was time we reviewed this Lake Texoma restaurant. Let's get started.
About Pelican's Landing
Pelican's Landing is a restaurant located at one of the many Lake Texoma marinas. In this case, it's Cedar Mills Marina and Resort.
The first thing that will catch your eye when you walk into Pelican's Landing is the quaint tropical-inspired surroundings. You'll see all sorts of unique accessories and photos on the wall, all related to lake life.
You'll find expansive windows along the restaurant's lakeside, giving you a beautiful panoramic view of the lake. Just outside these windows is the deck that overlooks the marina and lake.
The deck is our favorite place to dine if the temperature is not too hot.
Pelican's Landing Menu and Drinks
When it comes to the menu, Pelican's Landing will not disappoint. The menu offers everything from hamburgers to seafood and everything in between. Below is just a sample of what you'll find on the menu.
Buffalo Wings
Jumbo Peel and Eat Shrimps
Gilligan – it's a diced chicken salad
Smokehouse Burger
Texas-Sized Ribeye
Grilled Chicken
Smoked Salmon
Catfish and much more
For appetizers, we always get the Wisconsin Cheese Curds; they are delicious.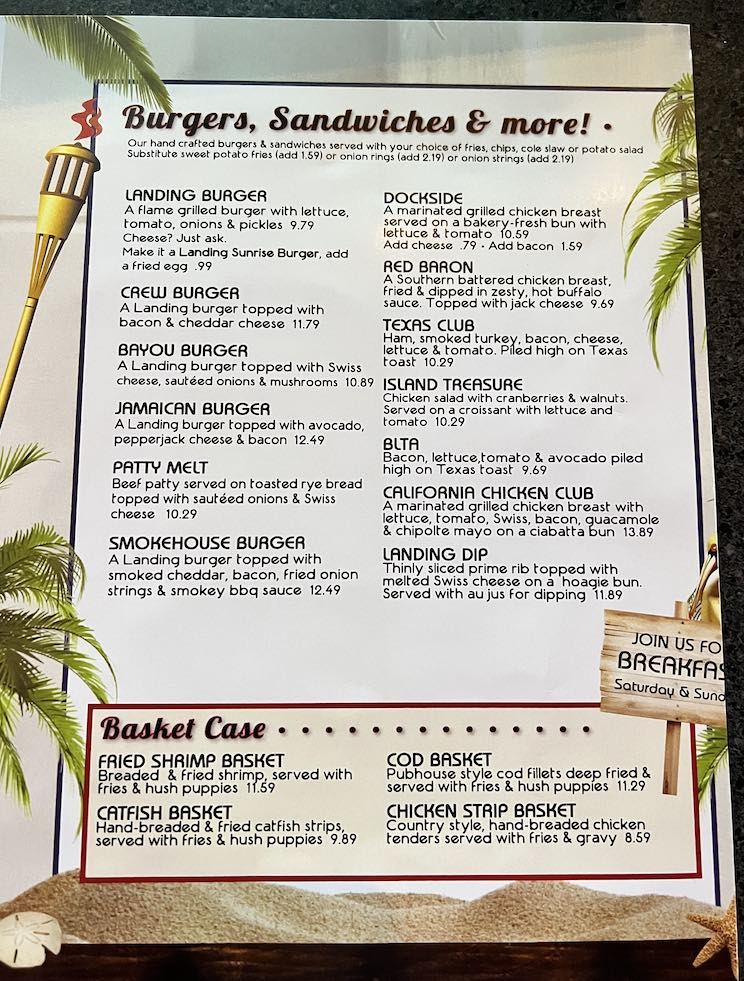 Quite honestly, we have not had a bad meal yet. Everything er have tried has always been served just right.
The Bar and Drinks
Inside, adjacent to the dining area, is the bar. The bar sits at about 15 and has several high-top tables and regular tables for dining.
The drink selection includes wine, beer, and mixed drinks. Our favorite mixed drink is the famous Fish Bowl. It's a delightful, delicious, fruity concoction that will make you feel like you're on a tropical island.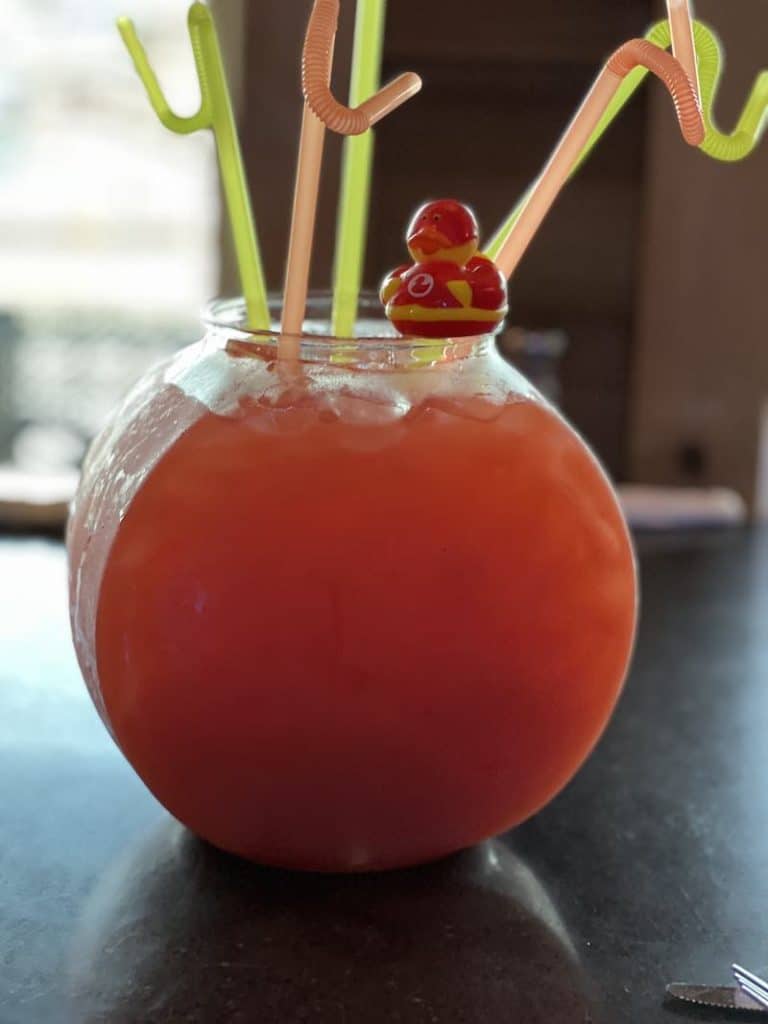 Parking and the marina
There is plenty of parking even on busy weekends. You'll find parking along the main entrance and the back, where the deck is located. We've never had a problem getting a decent parking spot.
If you want to visit Pelican's Landing by boat, you can do so by docking at any available public slip at Cedar Mills Marina.
Pelican's Landing Final Thoughts
Overall we like our visits to this waterfront restaurant on Lake Texoma. The food is always good, and the drinks are always perfect. We have found the staff to be very friendly and attentive.
There is no better place to dine at Pelican's Landing than on the deck overlooking the marina and the fantastic view you get.
If you are in the area, make it a point to visit and enjoy this place.
Tel: 903-523-4500 Located at
CEDAR MILLS MARINA & RESORT
500 Harbour View Rd.
Gordonville, TX
Visit Website
You may also like this other article we wrote: