Last Updated on May 29, 2023 by Ray Roman
It's safe to say Tammy and I love wine and food, as evidenced by our regular outings to Crystal Creek Winery and Pelican's Landing. So it shouldn't be surprising that we are reviewing Lost Street Brewing Company in this post.
Lost Street Brewing Company in Durant, OK, is the first craft beer brewery we have visited around Lake Texoma. Were we impressed or disappointed with our visit?
Let's find out…
What's their story?
Lost Street has an interesting origin story. It all started with a Christmas gift they received. What was that gift? A DIY home craft brew kit.
This simple gift allowed the family to explore their creative and fun side. Not long after, they turned their hobby into a full-blown business. The result was the Lost Street Brewing Co., where their years of experience and inspiration are helping them create some of the best craft beer we have tasted.
Craft Beer Selection
Many craft beer breweries try to impress with a vast selection of beer. Often just a handful of them is really good. Lost Street Brewing Co is not one of those.
Their selection of craft beers is just thirteen. Now that might not seem like a lot, but they are choosing quality over quantity, and to me, that is great. Here are their offerings when we were there.
How Good Were The Craft Beers?
I'm a sucker for "blondes." Blonde beer that is. I'm happy to say Lost Street Brewing did not disappoint. Their Lost Blonde is a great-tasting beer. It has a clean, slightly sweet malt taste, making this craft beer one of my favorites.
Tammy enjoyed several pints of the "Gallo Perdido," their version of a Mexican lager. This beer was delightful as well. Below is a list of what was available when we visited:
Lost Blonde – Pilsner and Pale malt
Gallo Perdido – Mexican lager
Holsum Wheat – Wheat beer with 50% wheat malt
Instigator – Classis Pilsner
Weisse Guy – Low alcohol sour beer
Three Valleys – Pale ale with a citrus hop profile
Iron Horse – IPA with hop aroma flavor
Brewers Reunion – New England IPA
Copperhead Red – Red ale with caramel sweetness
Stoneykirk – Scottish ale
Oktoberfest – German-style Marzen
Summer Stout – Traditional stout
We didn't try all of them, but if they are anything like the ones we did try, we think you won't be disappointed with any of them.
Lost Street Brewing Company Inside and Out
Tammy and I like the inside of the building. It is very well laid out with plenty of room. We were there on a day that wasn't crowded. However, if it were, we would not have felt cramped.
The bar showcases its craft beers very well. It is clean and well-lit, which is all we need.
The stainless steel fermentors are lined up to the right of the bar. They are quite impressive. To say the area is clean is an understatement. It's impeccable.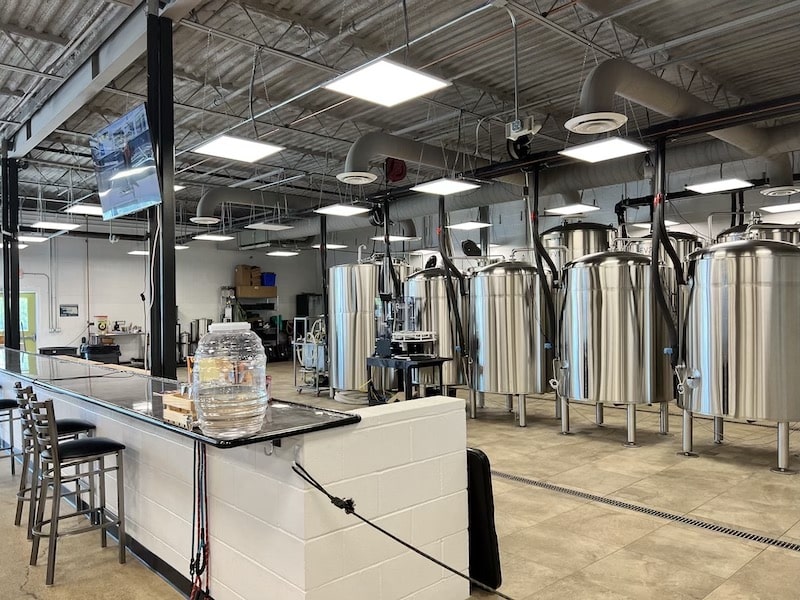 For those like us who enjoy playing board games while enjoying great beer and company, you'll find a nice selection of games to choose from in their game library.
They also have a gift shop with items from local artisans.
There is ample parking and an outdoor seating area you can enjoy.
Location and Social Media Links
Address:
109 West Lost Street
Durant, OK 74701
Tel: (580) 634 – 2936
Website: https://loststreetbrewing.com
Facebook: https://www.facebook.com/LostStreetBrewingCo
Instagram: https://www.facebook.com/LostStreetBrewingCo
Twitter: https://twitter.com/LostStreetBrew
Lost Street Brewing Company Final Thoughts
From the moment we walked into Lost Street Brewing Company, we knew we were in for a delightful experience.
The craft beers we tried were fantastic. The inside is very well done and extremely clean.
The young girl behind the bar was great. She was knowledgeable and attentive.
Overall I would give the Lost Street Brewing Company a 5 out of 5 stars. We will be back and highly recommend it to anyone looking for quality craft beer in a nice setting.
Further Reading: