Last Updated on September 28, 2023 by Ray Roman
Let us introduce you to Crystal Creek Winery. When you think of vineyards and wineries, Oklahoma is probably one of the last places that come to mind.
However, vineyards and wineries have sprung up all over Oklahoma due to the favorable weather and excellent soil conditions. As of the writing of this article, there are 52 wineries in the state.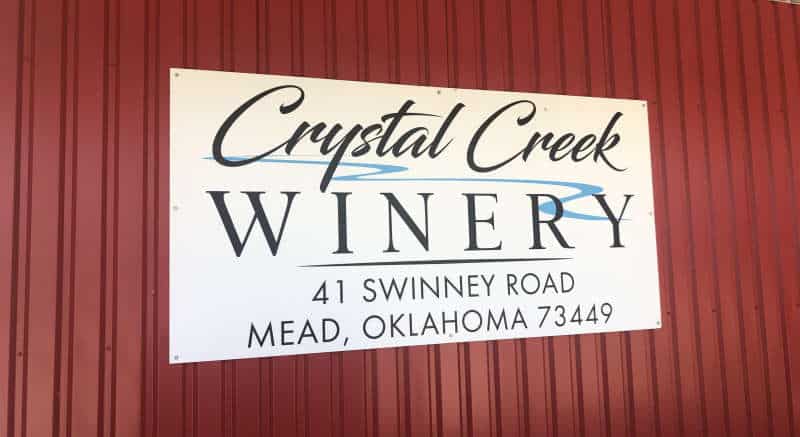 Most of the wineries are located in the state's Northeast, East Central, and Southwest portions. Most produce wines that range from sweet to dry.
This 4th of July weekend, Tammy and I made our trek over to Crystal Creek Winery.
This post is sponsored by meori – "Helping people organize at home and on the road"
meori makes high-quality foldable storage bins in various sizes and designs. These bins are sturdy and can hold up to 65 pounds. We tested their 6-bottle wine tote and the insulated 2-bottle wine tote. We found them to be very well-made using high-quality materials. The inserts were easy to use, and the totes were sturdy. Tammy and I highly recommend meori for your wine totes and bin storage needs.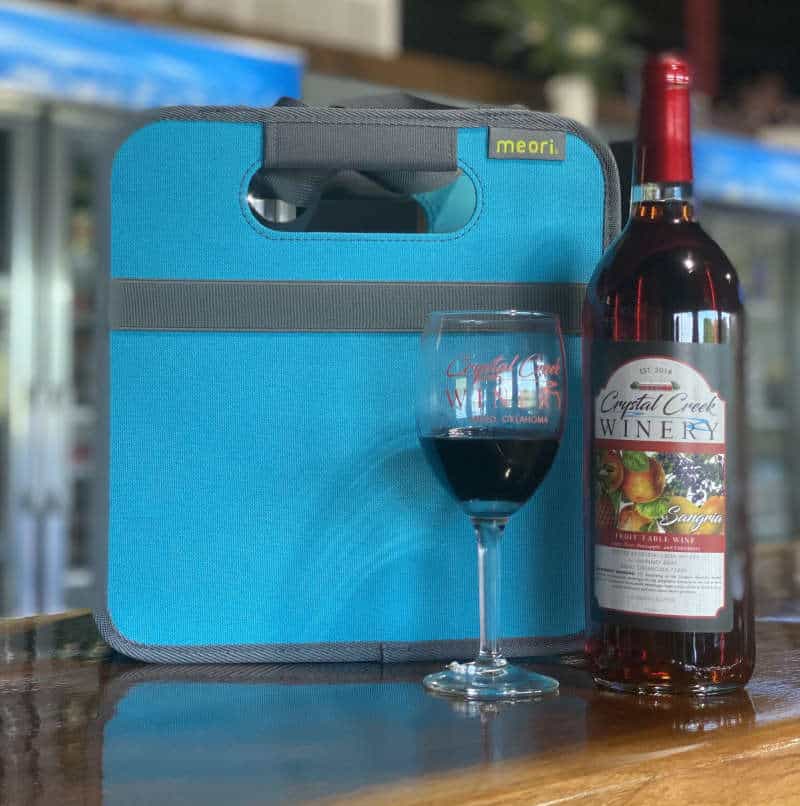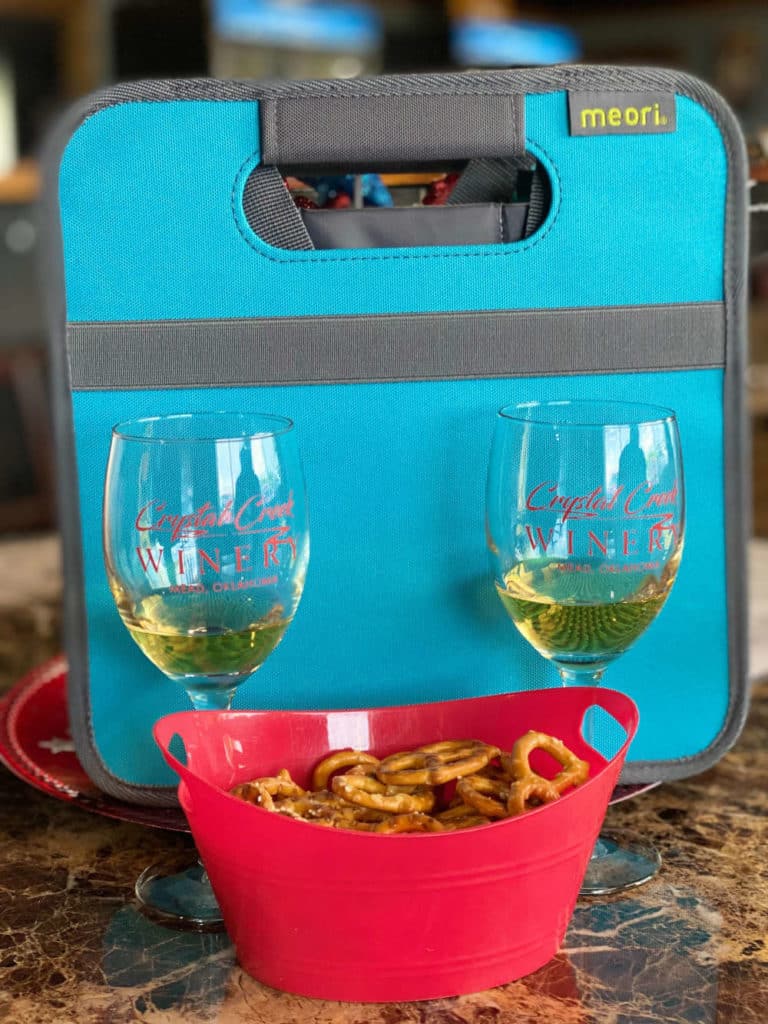 Crystal Creek Winery
One of the wineries Tammy and I love to visit is located in our neck of the woods called Crystal Creek Winery. It's located in Mead, OK, on Highway 70. It's a stone's throw from Lake Texoma.
There is much to love about Crystal Creek, starting with the owners, Crystal and Kevin Staton. They are both fantastic hosts and never seem tired of our many questions about their wines.
Crystal and Kevin first opened up Crystal Creek Winery in 2008. They both have a passion for making wine, and this was an opportunity for both to share that passion with others.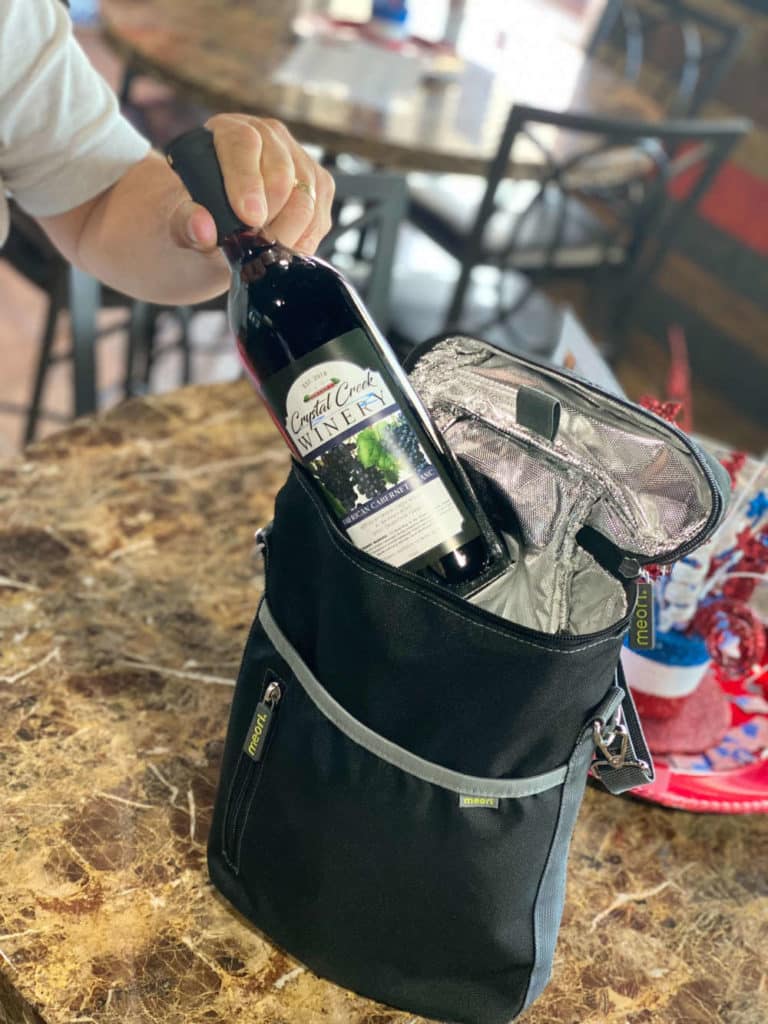 The wines are from berries and fruits like elderberry, blackberry, and apricot. The raw fruit juices are fermented and bottled according to their family tradition.
You'll find over 30 flavors, including strawberry, raspberry, cranberry, and chocolate wine, one of our favorites. They also feature frozen wines as well. They are always making new wine creations, so the menu changes here and there.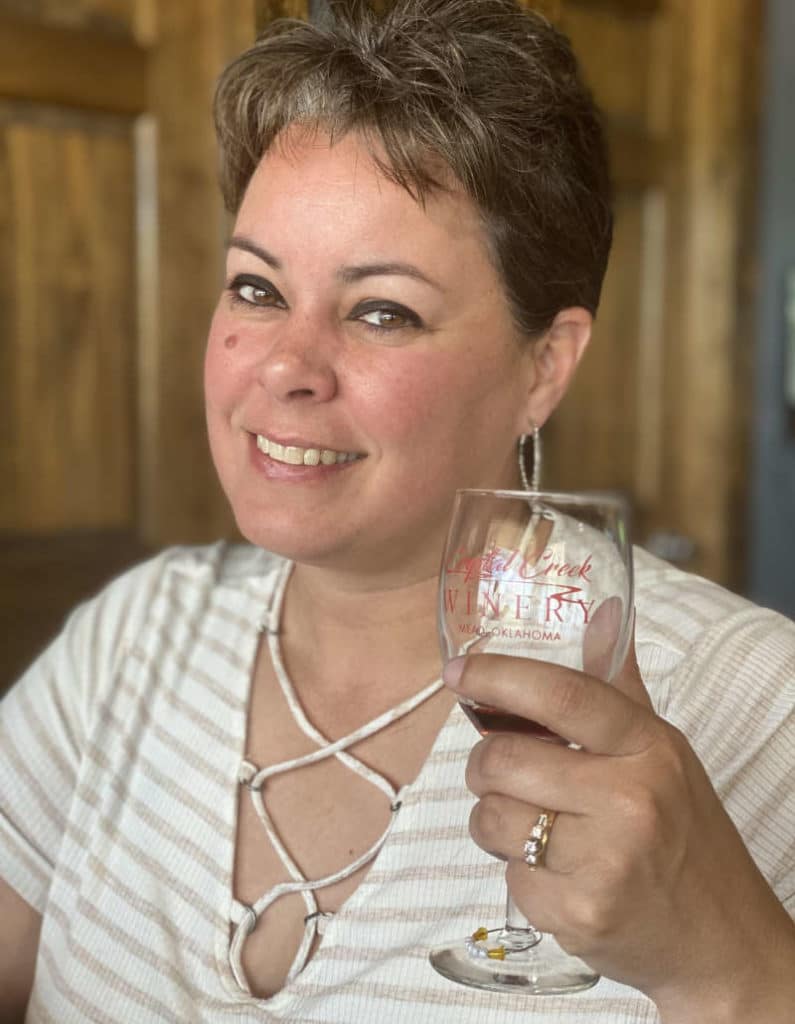 As for the wines, let's say we've tasted them all, and there isn't one we didn't like. They feature a selection of great-tasting, high-quality sweet and dry wines that will impress and mesmerize your palette.
In addition to the chocolate wine, one of my personal favorites and the wineries' bestseller is their Sangria. It is made of elderberries, pears, apples, and pineapple. You can't go wrong if you order the Sangria.
Crystal Creek Winery Selection
Let's say that no matter your wine taste, you will likely find your favorite at Crystal Creek. From dessert wine to sweet or dry, there seems to be a wine for anyone who visits. Here is a partial list of their wines and prices; visit their website to see the complete list.
Apricot
Black Currant
Blackberry
Blood Orange
Blueberry
Cabernet
Caramel Apple
Chocolate Cherry Sensation
Cranberry
Elderberry
Harvest Spice
Lemon Mango
Pomegranate Zinfandel
Sangria
Crystal Creek Winery has wine for you for after-dinner and everyday drinking.
Contact Information
Below are contact information and social media links for Crystal Creek Winery.
Address:
Crystal Creek Winery
41 Swinney Road
Mead, OK 73449
Tel: 580-980-1006
Website: https://crystalcreekwinery.net/
Facebook: https://www.facebook.com/crystalcreekwinery
meori Contact Information
meori
3250 Airport Way, Suite #308
Seattle, WA 98134
Tel: 206-445-7205
info@meori.com
Website: meori wine carriers
Facebook: https://www.facebook.com/meorius/
Final Thoughts on Crystal Creek Winery
As avid travelers, we have visited many wineries in Oklahoma and outside the state. We can confidently say Crystal Creek Winery is one of our best places.
There's a reason we continue to go back. It is the great tasting wines, the clean, friendly environment, and the people. Crystal and Kevin are friendly, accommodating, and fantastic hosts. There is also plenty of room on the property for RVS to park.
Do yourself a favor and stop by Crystal Creek Winery; I promise you won't be disappointed.
If wine is not your thing and you prefer craft beer check out our review of Lost Street Brewing Company in Durant, OK, or other Lake Texoma Wineries.