Last Updated on June 17, 2023 by Ray Roman
Lakeside Campground is located south of I-50 on Streetman Road. In this post, we'll take a look at this USACE-managed campground and tell you if this is a Lake Texoma campground you'll want to visit.
Let's get started…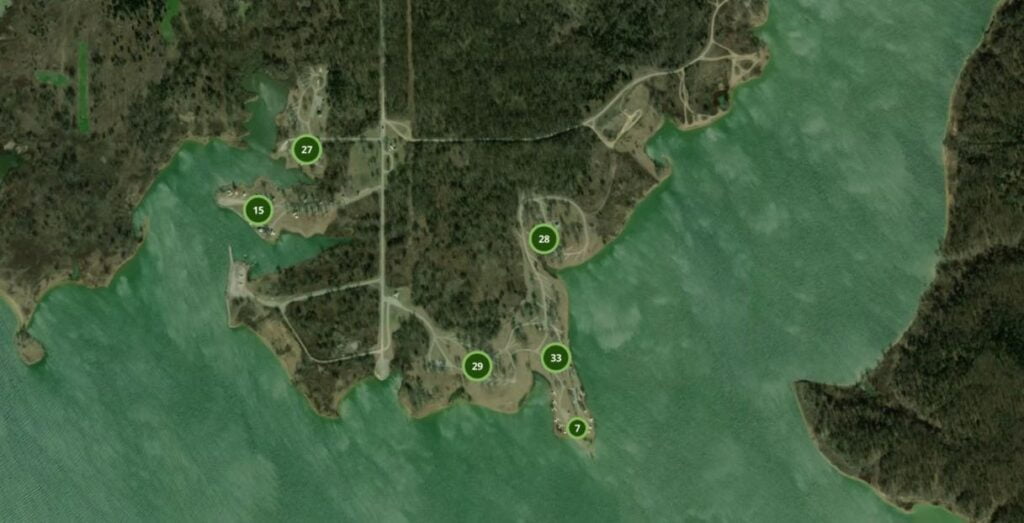 Campgrounds and Facilities
Lakeside Campground Overview
At Lakeside Campground on Lake Texoma, you'll be surrounded by rolling hills and beautiful scenery. Operated by the Corp of Engineers, this popular campground offers various amenities for a perfect weekend getaway or an extended stay.
Campsites and Amenities
Lakeside Campground has 128 campsites, most of which are within 150 feet from the shoreline. You can choose from individual water hookups, electric hookups, and RV campsites. The campground provides modern comforts such as showers, toilets, and a dump station. However, when bringing firewood, be aware of tree-killing pests and follow responsible firewood practices.
Amenities and Features of Lakeside Campground
Showers
Restrooms
Pit Toilets
Dump station
Frost Free Faucets
Group shelter
Individual water and electric hookups
Boat ramp
Gatehouse
Gate attendants facilities
Lakeside Campground Sites Available
Tent Only – No electricity available – $20 per night
Standard Electric 30-Amp Service – $20 per night

Sites A1-A19, D5-D31, E31-E24, E26-E27, E29-E30, E32 & F1-F34

Standard Electric 50-Amp Service – $22 per night

Sites B1-B23, E25, E28 & E31

Group Shelter – $50 per day
** Cellular coverage is good at the campground for all major carriers.**
Alerts
Always check for campground alerts which can be found on the reservation page for Lakeside. Often times section will close due to maintenance, upgrades, etc.
Address: 3991 Streeman Road, Mead, OK, 73449
GPS Coordinates: 33.9375, -96.55056
Gatehouse Tel: 580-920-.176
Reservations website: https://www.recreation.gov/camping/campgrounds/233534
Rental Cabins and Lodging Options
If you're not in the mood for tent camping or need more space, there are also lodging options available around Lake Texoma. While Lakeside Campground itself does not directly provide Lake Texoma rental cabins, you can find various RV parks and resorts nearby that offer lodging options like cabins and more.
Marinas and Boat Ramps
Lakeside Campground has two boat ramps and one courtesy dock, allowing you to access the lake for boating, skiing, and fishing. Furthermore, numerous marinas are available around Lake Texoma for additional services like boat rentals, storage, and fuel.
Day-Use Areas and Picnic Shelters
Apart from the campsites, Lakeside Campground features a reservable shelter for group gatherings or picnics. Numerous day-use areas around Lake Texoma also offer picturesque spots for you to enjoy in case you're not staying overnight.
For further information or reservations, contact the campground at 580-920-0176 or visit their official website.
Lakeside Recreation Area Video Tour
Nearby Attractions and Destinations
State Parks and Recreation Areas
While visiting Lakeside Recreation Area on Lake Texoma, you can explore several nearby state parks and recreation areas. One popular destination is Lake Texoma State Park, located in Kingston, Oklahoma. You'll find a variety of outdoor activities, including fishing, hiking, and boating.
Another option is going to Alberta Creek Marina Resort, where you can enjoy a waterfront restaurant, lodging, boat rentals, courtesy boat slips, and more.
Wildlife Refuges
If you're interested in wildlife and nature, consider visiting nearby wildlife refuges to observe different species of birds and animals in their natural habitat. These refuges offer excellent bird-watching opportunities and serene spots for enjoying the area's beauty.
During your trip, visit local convenience stores for supplies and explore the towns of Mead and Durant in Oklahoma for lodging, dining, and shopping options.
As for fishing enthusiasts, Lake Texoma is home to various fish, including shad and crappie. Don't forget to check the entrance gates and docks for information on the best fishing spots.
When planning your adventure around Lake Texoma and its surroundings, remember to make reservations in advance, especially if you plan to stay in cabins or campgrounds. Also, remember that some facilities may have limited access during the winter months, and frost-free hydrants might not be available.
While you'll be eager to explore all that Lake Texoma offers, always remember to stay safe, respect the environment, and enjoy your time at this beautiful, diverse destination.
Frequently Asked Questions
What types of campsites are available at Lakeside Recreation Area?
At the Lakeside Recreation Area on Lake Texoma, you can find 137 campsites, most of which have electrical and water hookups. This makes it a versatile camping option for tent campers and those with RVs.
Where can I find a map of the Lakeside Lake Texoma campground?
You can find a map and availability information for Lakeside Campground on Recreation.gov. From there, you can see the campground layout and reserve your desired campsite for your upcoming trip.
Are there any RV parks near Lakeside Recreation Area on Lake Texoma?
Yes, Lakeside Campground offers campsites with electrical and water hookups catering to RVs. Additionally, there are other nearby campgrounds and RV parks around Lake Texoma. For more options, you can explore Lake Texoma's camping and RV parks to find the perfect spot for your adventure.