Last Updated on May 7, 2023 by Ray Roman
When it comes to Lake Texoma Resorts, the choices are many, and it can be hard to find the perfect place for you and your group. 
We've found some of the best around and listed them below.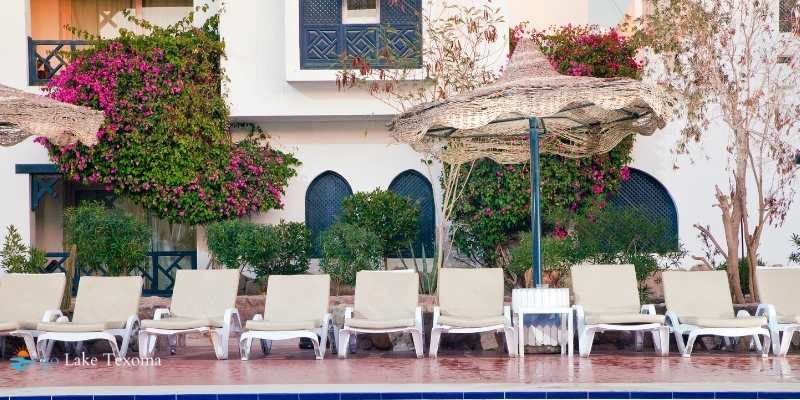 Whether you're looking to relax with minimal interruptions or you want to be in the middle of all the excitement with more than just the lake for entertainment, we've got you covered!
Located about half a mile from Lake Texoma, Caney Creek Resort is a pet-friendly resort that offers cabins and rooms to rent while you're enjoying the lake.
The resort has a pool, barbecue area, golf cart rentals, wifi, and 24-hour gas pumps at the convenience store. They also have a restaurant with a full bar and live bands on the weekends.
The cabins come with either 2 or 4 bedrooms. Suites are also available. Additional cabin amenities include coffee, cable TV, and a kitchen. For rates and availability, you must call the resort.
Our opinion – This is one of the few resorts listed that is pet friendly, so if taking your pet is a priority, we think you'll like it here.  
8848 Soldier Creek
Kingston, OK 73439
580.564.3223
If you want to be near the lake but also want a more glamorous place to sleep and relax, the Choctaw Casina and Resort has three different towers.
The Sky, Grand, or Spa tower is sure to have all that you could need but let us list a few of the amenities you could expect when staying here: complimentary valet or self-parking, coffee maker, mini-refrigerator, 50-inch flat-screen TV, in-room safe, room service, wi-fi, fitness center, business center, and pool access.
The resort isn't the only appeal of this location; we can't forget to mention the casino!  The casino boasts 7,400 slot machines which means your favorites will probably be there, but you have more than enough opportunities to find a new favorite too. If slots are not for you, the casino also has 100 non-smoking tables, a poker room, and a racebook to keep you entertained. 
Rates vary depending on the date of the stay, so be sure to check out their website for rates and availability. 
Our Opinion – This is definitely a space to stay if you plan to be loud and want to have lots of rowdy fun after usual resorts start quiet time. 
4216 S Hwy 69/75
Durant, OK 74701
888.652.4628
Lynn and Kathy Cronemiller purchased and renovated Lake Texoma Lodge in 2013.  They wanted to create a space that was family-friendly and where other families could create the same kind of memories the couple created with their own kids before the original lodge shut down in 2008. The new Lake Texoma Lodge and Resort is perfect for a good time!
The lodge, nestled among trees next to Lake Texhoma,  has a nice swimming pool, hot tub, cozy cabins for couples or spacious for large parties, an outside play area for kids, a restaurant, and a restaurant bar.  Here are some things to keep in mind.
There is not someone available at check-in 24/7, so make note of the office hours located on their website.  The entire resort is non-smoking and not pet friendly. Cancellations a week before scheduled check-in will result in only a 50% refund; cancellations on the day of check-in will not get a refund. 
Our Opinion – This resort would be great for your family. It is one of the few resorts listed that has a playground. 
100 Texoma Ave
Mead, OK 73449
866.831.4293
Protho Center is owned and operated by the North Texas Conference of the United Methodist Church. You're not Methodist? That's no problem! Protho Center is open to all and welcomes guests of all denominations.
The Center offers 24 hotel-style rooms, each with a private bathroom.  All rooms open onto a deck overlooking Lake Texoma.  They also have 1-bedroom, 2-bedroom, and 4-bedroom cabins available to rent. 
Some of the additional amenities of Protho Center include a 25-meter pool, designated lake swimming areas, beaches for relaxation, kayaking, horseshoes, beach volleyball, and walking trails. The resort isn't just for your next family vacation.
They have large event spaces perfect for your wedding or business gathering.
Our Opinion – The beach areas of this resort are the biggest appeal here.  They set this resort out from the rest.  If you want to be near the beach and plan to stay there most of the time, this would be the perfect place for you. 
269 Methodist Ln
Pottsboro TX 75076
903.786.2141
Rock House Resort is a resort of 4 vacation homes ranging from 1 bedroom to 4 bedrooms and 500 – 2000 sq ft. Each home has a private propane grill and fire pit with free propane and firewood.
Rock House Resort can host large groups of up to 34 people.  There is a shared game room full of plenty of ways to entertain your family or friends!
The resort is nonsmoking and does not allow pets.  The preferred atmosphere at this resort is quiet and relaxed.  If you're looking for a place to host events that may get rowdy or loud, we suggest finding a resort better suited for that sort of fun.  Rentals can be made online or through Airbnb.  Rentals made directly through the Rock House Resort website will save on the extra fees Airbnb charges. 
Our Opinion – This resort is going to be perfect for those people looking for something quiet and secluded. The homes are nice and will be a wonderfully relaxing place after spending the day at Lake Texoma.
25 Geis Dr
Pottsboro, TX 75076
903.271.7282
Found on Lake Texoma, the Tanglewood Resort and Conference Center offers fun activities, meeting venues, fine dining, three swimming pools, volleyball, basketball, a game room, fire pits, horseshoes, and tennis courts!  This resort was awarded certificates of excellence by Tripadvisor in 2019, 2020, and 2021.
The resort has live music from Thursday through Saturday. They have a few different places to enjoy a drink or delicious food, including a lakeside lounge open all week long from Sunday to Thursday, 5:00 – 9:00 PM and 5:00 – 10:00 PM on Friday and Saturday, a bar & grill open from 7:00 AM – 11:00 PM every day but Sunday which is 10:00 AM to 11:00 PM, and finally the Lakeview Steakhouse (reservations required) which is open all week Sun – Thurs 5:00 PM to 9:00 PM and Fri/Sat 5:00 PM to 10:00 PM. 
Don't forget your golf clubs and play a round at Tangewood's private 18-hole championship golf course. Reservations can be made on their website.
Our Opinion – If you're looking for a high-end resort experience with more than enough to do to keep you entertained, this is the place for you!
290 Tanglewood Cir
Lake Texoma, TX 75076
609.438.2929
Located near Grand Pappy's Marina, Tiny Home Vacations Resort is on its way to becoming one of the highest-rated and most popular Lake Texoma Resorts. The homes may be tiny but the amenities are not!
Here you'll find a resort-style pool and oversized jacuzzi, a private lake for kayaking or fishing, a game room, and walking trails.
At Grand Pappy's Marina, you can rent a powerboat for a day on the lake or enjoy dinner at The Point Restaurant.
The tiny homes are pet and family-friendly and include bedding, wifi, a fully equipped kitchen, oversized parking, a full bathroom, and AC/Heating. Reservations can be made directly from the resort by visiting their website.
Our Opinion – These tiny homes are adorable, and the resort is fun and whimsical.  This would be a great place for a girls' trip!
315 Hanna Dr.
Denison, TX 75020
903.200.1088
If you're looking to make a big impression on your next corporate retreat, then the Triple R Ranch and Winery is exactly where you need to go.
This beautiful private game ranch is not open to the public for tours or visitation. It is an all-inclusive 100-acre small game facility.
The ranch is the perfect place for any outdoorsman in your group and includes opportunities for hunting, fishing, skeet shooting, archery, horseback riding, wine tasting, and campfires. The conference center has free wifi and T1s for a stable, dedicated internet connection to keep you connected.
To inquire about having your next corporate retreat at the Triple R Ranch and Winery, contact them through their website or by the contact info included below. 
Our Opinion – This is the place to have your next corporate event.  The ranch and surrounding area are beautiful.
2276 Country Road 125
Whitesboro, TX 76273
214.578.2433
Of course, we couldn't have a list of Lake Texoma Resorts without including the WinStar Casino and Resort. The resort features a golf course, resort pool and cabanas, and boutique shopping. The resort has all the dining options you could want from fine dining to bars and lounges.
There are three options for staying at WinStar; the casino hotel is great for those who want to be near the casino and close to the action; the Inn at WinStar is a quieter option, not too far from the casino but far enough to feel a little more relaxed, and finally Fun Town RV Park where you can park your RV and still visit the casino and enjoy all the entertainment it has to offer. 
Speaking of the casino, did you know it is the world's largest casino? It is the home to 9 globally themed gaming plazas that stretch along an entire mile of the game floor, allowing it to contain the world's largest collection of electronic and table games!
The casino has high-stakes rooms, bingo, and poker tournaments. There's something for everyone at this resort!
Our Opinion – Let's be honest, if you're in the area, you should definitely stop here even if you don't want to stay.  The casino is massive, and you really can't appreciate the size without visiting. 
777 Casino Ave
Thackerville OK 73459
800.622.6317
Our Final Thoughts on Lake Texoma Resorts
One of the things we love about Lake Texoma is that you can visit several times and have a different experience each time just by choosing a different resort and finding the atmosphere that's perfect for this trip or that trip.
Want to relax and be surrounded by nature? We've got you covered. Want to focus on nightlife and excitement? We've got that handled too.
Hanging out with your family and looking for something that accommodates children? No worries, we've got the perfect place!
The Lake Texoma Resorts are ready for you, so pack your bags, and we'll see you at the beach!
Another option is some of the Lake Texoma campgrounds that offer very nice facilities and affordable pricing.