Lake Texoma indeed has over 1,200 miles of shoreline to enjoy, and while a day on the beach can be exciting and fun, it is just the beginning of what Lake Texhoma has to offer!
To get a better, more entertaining day or weekend at the lake, why not get ON the water instead of just in it? There are a handful of Lake Texoma Boat Rental locations just waiting to get you in a life vest and on the water pulling a tube, a skier, or just enjoying the thrill of boating!
The Grandpappy Point Resort and Marina is a full-service, family-friendly marina. The Grandpappy started in the 1950s as a small fishing camp and has grown into a 180-acre marina and resort.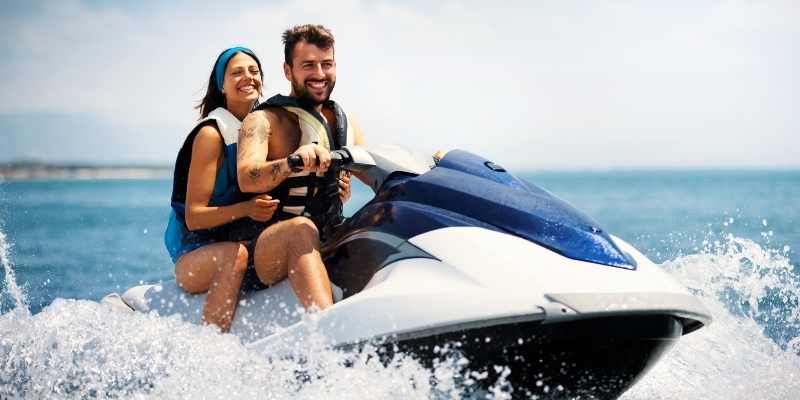 The full-service marina has a service and a parts department, a fuel dock (stocked with all your favorite snacks), and even covered pavilions that can be used for any number of events. If needed, they even offer boat slip rentals, cabin rentals, dockominium rentals, camping, and RV sites.
Half-day boat rentals at Grandpappy Point Resort start at $300 for four hours with up to 11 guests. A full-day rental costs $450 for eight hours and up to 11 guests. The boat rentals can be booked online at their website.
If you'd rather spend your time on the water in a different way, they also offer stand-up paddleboards and kayaks for rent.
132 Grandpappy Dr
Denison, TX 75020
903-465-6330
Big Mineral Resort Marina is a full-service marina on Lake Texoma. They have over 100 campsites, cabin rentals, and boat and RV storage options.
At this resort, you'll also find a convenience store stocked with any items you may have left at home and a snack bar and grill open during the summer.
At Big Mineral Resort, you'll find two on the water fuel pumps and one on land. They even offer fishing guide services!
Pontoon Boat rentals are priced by hours rented. Rental rates start at 4 hours for $200 and go up to $500 for the weekend.
Ski Boat rentals are priced the same way as pontoon boat rentals; rates start at 4 hours for $300 and go up to $600 for the weekend. Rentals do not include fuel; for an additional $20, tubes can be rented with a ski boat. Renters must be 25 years old and have a major credit card.
P.O. Box 576
Gordonville, TX 76245
903-523-4287
Catfish Bay Marina is a full-service marina that offers a fuel dock, covered boat slips, a convenience store, and boat rentals.
They have mechanics trained and ready to perform maintenance on all makes and models of boats. The ship store has a full line of marine parts and accessories available for your needs. For those visitors looking to become locals, the marina website also lists dockominiums for sale.
Pontoon Boat rentals at Catfish Bay Marina start at $400 for 4 hours and go up to $800 for 11 hours. They recommend you make reservations requiring a $50 non-refundable booking fee (which is later applied to the boat rental).
You can also rent canoes, kayaks, and paddleboards, which will require a $25 booking fee and have rates of $25 for 1 hour and $40 for 2 hours.
11586 Rooster Creek Drive
Kingston, OK 73439
580-564-2307
The Lighthouse Resort and Marina has been a popular destination for families for over 50 years. The resort offers 35 furnished cabins, 20 waterfront RV sites, a fuel dock, and a store for all your weekend getaway needs.
If you're hosting a large group, they even have a 2400 sq ft event facility with an 800 sq ft covered porch, two bathrooms, a full kitchen (which includes a range, oven, refrigerator, and freezer), and can accommodate up to 75 people.
Lighthouse Resort and Marina offers tri-toon boat rentals, which can be rented either for half the day or a full day, and pontoon boats that can be rented hourly. Reservations for the tri-toon boats can only be made online.
The pontoon boats are rented on a first-come, first-served basis. The rates for boat rentals vary between $275 and $600 and also require a $500 damage deposit on a major credit card. Also available to rent are stand-up paddleboards and kayaks.
300 Lighthouse Drive
Pottsboro, TX 75076
903-361.-070
Willow Springs Marina is a 150-acre facility with stunning lakefront beaches that was one of the first marinas on Lake Texoma.
They also offer RV and campsites, boat docks, and cabins. The marina is family-friendly and ready to welcome you all for a weekend getaway or weeks of entertainment. They even have kayak rentals for those who want to be on the water without needing to rent a boat.
Willow Springs Marina currently has one pontoon boat available for rent. The renter must have a valid driver's license at least 21 years old.
Rates for their pontoon boat range from $205 for 4 hours to $425 for 12 hours. The boat will hold up to 16 people, and life vests for smaller children may not be available, so you're encouraged to bring your own.
1401 Willow Springs Rd
Mead, OK 73449
580-924-6240
We know boating may not be for everyone, especially if you do not bring a group of people with you. For those wanting something smaller and maybe a bit more exciting, check out a few personal watercraft rental locations at Lake Texoma, like the ones we have listed below.
In Kingston, Oklahoma, Texoma Jet Ski Rental provides easy and affordable access to six Yamaha Waverunners.
Each Waverunner has the power to haul up to three people! Rates start at 2 hours for $135 and up to 8 hours for $350. You must be 25 years old to rent and 18 years old to operate the rental.
Non-operating passengers may be of any age with someone 18 or older. The rentals are available from 8 am to 8 pm with a minimum rental time of 2 hours. A refundable $300 cash deposit is required with each rental.
An anchor and all life jackets necessary are included with every watercraft rented. Texoma Jet Ski Rental will deliver your rented Waverunner wherever you have decided to camp or spend the day and do not charge for fuel on weekdays.
6037 E Highway 70
Kingston, OK 73439
405-714-4555
Anchor Up Jet Ski Rental's rates are $75 per hour with a 2-hour minimum or $450 for 8 hours. They require reservations, and you must give 24-hour notice for weekday reservations.
They are open every day from 9:00 AM to 7:00 PM. Anchor Up has awesome customer reviews and is fully capable of supplying you with the personal watercraft you need to have a great weekend on the lake!
They even offer an Island Shuttle! The fee is $60 for the first four people and $10 per person afterward. Anchor up will provide the chairs, umbrella, and sandcastle building tools; all you need to provide are drinks and food.
576 Highport Rd
Pottsboro, TX 75076
903-271-7507
Lake Texoma Boat Rentals Final Thoughts
Any time spent at Lake Texoma is well spent, but if you're looking to add a little excitement to your visit, we know these businesses have what it takes to make your trip even more memorable.
Get yourself and your group a boat or personal watercraft rental that will get you off the beach and on the water! Have a great time, and as always, don't forget your sunscreen!
If you found this resource useful, check out our Top 10 Lake Texoma marinas, Lake Texoma boat ramps, and Lake Texoma cabins.