Last Updated on September 22, 2023 by Ray Roman
Kayaking is very popular on Lake Texoma. Tammy and I see many folks of all ages ranges on a kayak. Due to their size, many visitors to Lake Texoma would prefer to rent o kayak locally than lug one on top of their car. Here are 5 Lake Texoma kayak rental locations you can check out.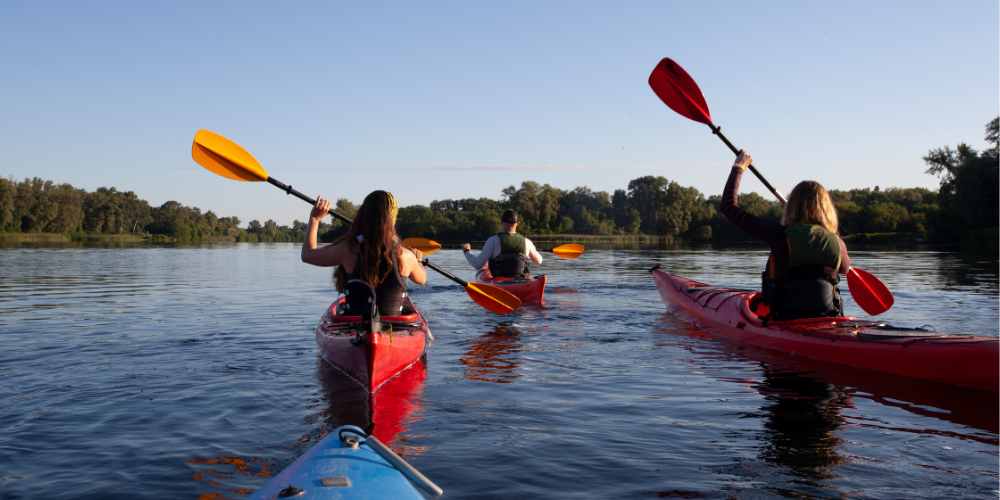 Lighthouse Resort and Marina
Lighthouse has several 1-person and 2-person kayaks for rent. Life jackets and paddles are included. Visit their website for more information.
Address:
300 Lighthouse Drive
Pottsboro, TX 75076
Island View Park
Island View Park has kayak rentals starting at $25 and includes paddles and life jackets. They also have a private guided paddle trip you can partake in. Island View Park is a day-use park with a lovely beach area.
You can visit their website for more information.
Address:
87426 Preston Bend Rd
Pottsboro, TX 75076
Willow Spring Marina
Willow Spring Marina is another great place to rent a kayak. They are located in Mead, OK, just over the bridge if you are heading east from Kingston. Their rental rates start at $12 per hour with a 2-hour minimum. You can call them at 580-924-6240/
Address:
1401 Willow Springs Rd
Mead, OK 73449
Lake Texoma Kayak Rental Guide
When renting a kayak, several important factors must be considered to ensure a safe and enjoyable experience on the water. Here are a few key points to look for when renting a kayak:
Quality and condition of the kayak: Inspect the kayak thoroughly before renting. Check for any signs of damage, such as cracks, dents, or leaks. Ensure that the kayak is clean and well-maintained. It's also essential to check the kayak's buoyancy and stability, as these factors play a significant role in your safety on the water.
Safety equipment: Safety should be a top priority when kayaking. Ensure the rental company provides all the necessary safety equipment, including life jackets (properly fitting for all participants), a whistle or signaling device, and a kayak paddle. If needed, inquire about other safety gear or accessories, such as spray skirts or kayak flotation devices.
Kayak size and type: Consider your skill level and the type of water you'll be kayaking on—different kayak designs suit environments such as calm lakes, rivers, and ocean coastlines. A wider kayak provides more stability for beginners, while narrower ones offer better maneuverability. Ensure the rental company has kayaks suitable for your skill level and the specific water conditions you'll face.
Rental policies and support: Familiarize yourself with the rental company's policies and terms. Understand the rental duration, any restrictions on where to take the kayak, and the process for returning the equipment. It's also beneficial to inquire about additional services they offer, such as guided tours or kayak transportation. Having knowledgeable staff to answer your questions or offer assistance is valuable.
Remember, renting a kayak is not just about the equipment; it's also about the overall experience and safety. By considering these factors, you can make an informed decision and have a fantastic time exploring the waterways with peace of mind.
More Reading: