Last Updated on September 22, 2023 by Ray Roman
Houseboat rentals on Lake Texoma offer a unique and exciting way to experience the beauty and adventure of this popular destination. As you set out on your houseboat adventure, you'll find various opportunities for outdoor activities, relaxation, and quality time with friends and family.
With unmatched flexibility and a wide range of onboard amenities, houseboat rentals make it easy to customize your vacation experience to match your interests and preferences.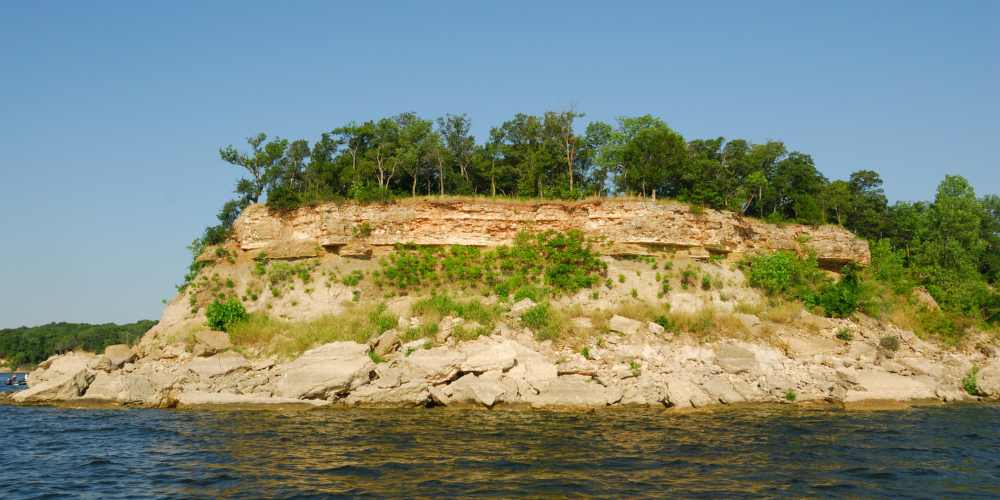 Lake Texoma, located on the border of Texas and Oklahoma, is known for its picturesque shoreline, lively fishing scene, and abundant recreational opportunities. Choosing a houseboat rental allows you to fully immerse yourself in tranquil surroundings while accessing modern comforts and conveniences.
A few marinas and rental companies in the area may provide various options to accommodate various group sizes and preferences, ensuring a comfortable and memorable experience.
Houseboat Rentals Lake Texoma
Finding houseboat rentals on Lake Texoma is not easy. Not all marinas have their rental inventory on their website. Houseboats are usually not standard inventory for boat rental places. You will have to do some digging to find a houseboat for rent on Lake Texoma. Consider joining any of the Lake Texoma Facebook groups and inquire within.
Key Takeaways
Houseboat rentals offer a unique way to explore Lake Texoma's beauty and activities.
A variety of rental options and amenities allow for a personalized experience.
Many local marinas and companies cater to the needs of houseboat vacationers, assuming they offer houseboat rentals.
Why Choose Houseboat Rentals on Lake Texoma
Exploring Lake Texoma on a houseboat rental offers you a unique and adventurous vacation experience. Houseboat rentals on Lake Texoma provide you with all the comforts of home while allowing you to enjoy the natural beauty of this pristine lake.
Firstly, houseboat rentals offer unmatched flexibility. You can choose the boat size and the number of days you want to spend on the lake and plan your itinerary. Unlike staying in a hotel or traditional vacation rental, you can move your "home base" as you explore different lake areas, creating a more dynamic and versatile vacation experience.
During your stay on the houseboat, you will have a direct connection to nature and the surrounding environment. Wake up to the sound of birds chirping and watch the sunset over the water, all from the comfort of your private deck. The striking landscapes of Lake Texoma make for an unmatched setting for outdoor enthusiasts, with numerous opportunities for water sports, fishing, swimming, and hiking.
Access to numerous amenities is another advantage of choosing a houseboat rental on Lake Texoma. The boats have all the essentials, including fully functional kitchens, comfortable living spaces, and modern bathrooms. Many houseboat rentals provide additional luxuries, such as hot tubs, entertainment systems, and barbecue grills.
Finally, renting a houseboat on Lake Texoma offers a great opportunity for family bonding or spending quality time with friends. With limited distractions and the shared excitement of adventure, you can create memories that will last a lifetime. Don't forget to take advantage of the boat rental services available at the lake, allowing you to truly explore all that Lake Texoma offers.
By choosing a houseboat rental for your Lake Texoma vacation, you combine the best of all worlds – comfort, flexibility, and unparalleled access to the region's natural beauty. So, immerse yourself in the lake's picturesque surroundings and create unforgettable memories with your loved ones on a houseboat adventure.
Rental Services and Marinas
Lighthouse Marina
At the Lighthouse Marina, you can find a variety of boat rentals to suit your needs for a memorable experience on Lake Texoma. They offer a range of boats, including pontoons, ski boats, and fishing boats. The marina also provides essential amenities, such as fuel docks and slips for secure docking.
Willow Springs Marina
Willow Springs Marina features a wide selection of boats for rent, including pontoons, ski boats, and jet skis. Additionally, they offer amenities like boat storage, a fuel dock, and a marina store to cater to all your boating needs during your stay at Lake Texoma.
Pottsboro Marina
The Pottsboro Marina is another excellent choice for boat rentals on Lake Texoma. With a vast range of boats, including pontoons and ski boats, you'll find the perfect vessel for your day on the water.
The marina offers various services, such as fuel docks, slips, and a well-stocked marina store to make your boating experience seamless and enjoyable.
By exploring these marinas and rental services, you will find the perfect boat or houseboat rental that caters to your needs and ensures a fantastic experience on Lake Texoma.
Onboard Amenities and Services
Accommodations
When renting a houseboat on Lake Texoma, you can expect comfortably furnished cabins that provide a cozy lodging experience. These cabins are designed to accommodate various group sizes, ensuring you and your fellow travelers have enough space to enjoy your cruise. Fully equipped kitchens, dining, and living areas, as well as outdoor seating spaces, allow you to enjoy an all-inclusive experience on the water.
Safety Equipment
Your safety is paramount during your Lake Texoma houseboat rental. Each houseboat has essential safety equipment, including life vests for all passengers, fire extinguishers, and first aid kits. As a renter, you'll also be provided with information on boat operation and safety guidelines, ensuring you can navigate the waters safely.
Recreational Amenities
Houseboat rentals on Lake Texoma offer a range of recreational amenities to enhance your outdoor adventure. Guests often have access to fishing gear, allowing you to explore Lake Texoma's renowned fishing opportunities. Furthermore, many houseboats come equipped with water toys such as kayaks, paddleboards, and even towable tubes for a thrilling experience.
Aside from water-based amenities, you can find houseboats with additional features like BBQ grills, sound systems, and cozy outdoor seating areas, perfect for relaxation while you cruise along the lake. With a convenient fuel dock nearby, you're always just a short trip away from refueling and enjoying uninterrupted fun on the water during your houseboat rental.
Booking and Reservations
Price and Packages
When planning your weekend getaway or family reunion at Lake Texoma, it's essential to consider the various houseboat rental options available. Rental prices will vary depending on factors such as the size, location, and amenities offered by the houseboat.
Availability and Policies
Once you've found a suitable houseboat rental, it's crucial to check its availability for your desired dates. Popular times like holidays and weekends might be harder to book, so plan ahead to ensure you secure your preferred option. Make sure to review the booking policies for your chosen rental, including details such as cancellations and deposit requirements. For example, Catfish Bay Marina Boat Rentals requires a non-refundable $50 booking fee which is applied to the rental price.
Some rental agencies and private owners might offer discounts for extended stays or off-season bookings, so watch out for those deals. Remember to always check the cancellation policies beforehand, as some rentals offer free cancellations closer to the check-in date.
To ensure a smooth and enjoyable experience, following the houseboat rental rules and regulations provided by the rental service is essential. This can include adhering to the maximum occupancy limit, respecting the environment, and following safety precautions while on the water. By staying informed and flexible, you'll be well-prepared for a memorable Lake Texoma houseboat adventure.
Fuel Service and Dock Facilities
Fuel Purchasing
At Lake Texoma, you can access various marinas that offer fuel services for your houseboat rental. For instance, the Eisenhower Yacht Club Marina and Catfish Bay Marina provide fuel docks for convenient fuel purchasing. Additionally, these marinas also offer other amenities such as boat slip rentals, dockominiums, yacht sales, service, and boat brokerage services, as well as marine shops and convenience stores.
When fueling your houseboat, ensure to follow the marina's guidelines and safety regulations. Remember to turn off all electrical appliances, engines, and open flames during the process.
Fuel Handling Tips
To ensure a safe and hassle-free experience while fueling your houseboat at Lake Texoma, consider the following fuel handling tips:
Before fueling, secure your houseboat to the fuel dock using appropriate docking lines.
Keep a fuel-absorbent pad handy to clean up any spills that may occur during the fueling process.
Do not overfill your houseboat's fuel tank. Leave some room for fuel expansion.
Keep all passengers away from the fueling area to minimize the risk of injury.
After fueling, tightly close the fuel cap to avoid any leakage.
Inspect your houseboat for any signs of fuel leaks or odors before starting the engine.
Familiarize yourself with the location of the fire extinguisher and other safety equipment on your houseboat.
By following these tips, you can ensure a safe and enjoyable houseboat rental experience at Lake Texoma. Remember to take advantage of other amenities available at the marinas, such as boat ramps, to ensure a smooth and efficient departure and arrival during your trip.
Houseboat Rentals Lake Texoma FAQ
What is the cost of renting a houseboat on Lake Texoma?
The cost of renting a houseboat on Lake Texoma can vary depending on the size and amenities of the houseboat and the duration of your rental. It is best to check with individual houseboat rental providers for their specific pricing and availability.
Are there any fishing boat rentals available on Lake Texoma?
Yes, there are fishing boat rentals available on Lake Texoma. Several marinas and rental locations offer various fishing boat options, providing everything you need for an enjoyable day of fishing on the lake.
What types of boats can be rented on Lake Texoma?
Lake Texoma offers a variety of boat rental options, including fishing boats, pontoon boats, speed boats, and Jet Skis. You can find boat rentals with hourly, half-day, and full-day rates to suit your needs and preferences.
Can you stay overnight in a houseboat on Lake Texoma?
Yes, you can stay overnight in a houseboat on Lake Texoma. Renting a houseboat allows you to enjoy the lake and its surroundings at your own pace and provides a unique lodging experience. Some houseboats have sleeping quarters, bathrooms, and kitchens, offering a comfortable stay on the water.
Are there any floating home rentals on Lake Texoma?
There are floating home rentals on Lake Texoma, offering various options, including cabins and larger homes with multiple bedrooms.
How do boat rental prices compare between Lake Texoma and surrounding lakes?
Boat rental prices can vary depending on the type of boat, the rental location, and the rental duration. It is recommended to compare prices between Lake Texoma and nearby lakes, considering factors such as boat availability, marina facilities, and the overall appeal of each lake's recreational offerings.
Additional Resources: