So which Lake Texoma fishing license do you need in order to legally fish the lake?
Well, it depends on a few things:
Are you a Texas or Oklahoma resident?
Are you over 65 years of age?
Will you be fishing just at the lake or below Denison Dame?
Fishing license regulations on the lake can be a little tricky to understand. Below I've broken it down for you in as much detail as possible. If you're still confused as I was initially I recommend you visit a marina or bait shop to get your license. They will guide you as to which license you will need.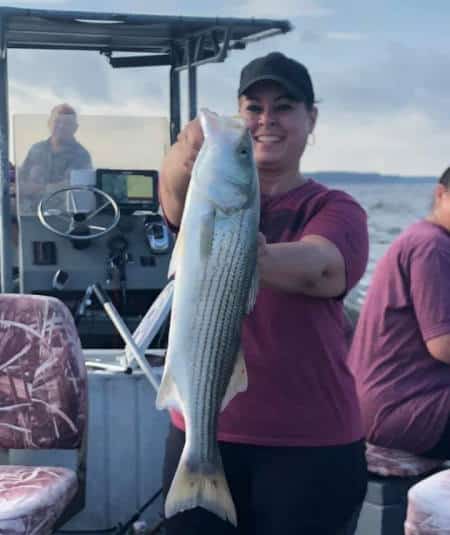 How much is a Lake Texoma Fishing License?
A Lake Texoma fishing license is just $12.00
Where Do I Buy a Lake Texoma Fishing License?
You have two options when buying a Lake Texoma fishing license. You can buy a fishing license locally from several of the bait shops or convenience stores on the Oklahoma or Texas side.
You can also buy online from the Oklahoma Fish and Wildlife Department or the Texas Parks and Wildlife Department. Both states offer an app where you can keep your license to show when needed and you can also renew yearly.
If you are looking to buy your Lake Texoma fishing license locally you can find retailers on the Oklahoma side here and on the Texas side here.
I'm Only Fishing Lake Texoma Which License Do I need?
If your intent is to only fish Lake Texoma (not fishing below Dennison Dam) the only license you'll need is the special Lake Texoma fishing license (Type 208 in Texas) which is available for $12.
Whether you are Texas or Oklahoma resident you will need the license. This license allows you to fish the entire lake on either side of the state line.
If you happen to be a Texas resident who is 65 years or older you don't need a Type 208 fishing license you can fish either side without one.
This special fishing license expires at the end of the calendar year or December 31, regardless of when it was issued to you. You don't need any additional Oklahoma or Texas licenses or stamps. The license is valid ONLY on Lake Texoma.
If you should happen to have a state license from either Texas or Oklahoma and do not have a Type 208 special license, then you are only permitted to fish the lake on your side of the state. Two-thirds of the lake lies on the Oklahoma side. If you're from Texas it makes sense to pay an additional $12 to be able to fish the Oklahoma side.
BTW this special license was created in 1979 to allow anglers the opportunity to fish the entire lake without needing a Texas or Oklahoma fishing license.
Below is a map of the Oklahoma-Texas state line on the lake. You can click here to download the map directly from the Texas Parks and Wildlife Department.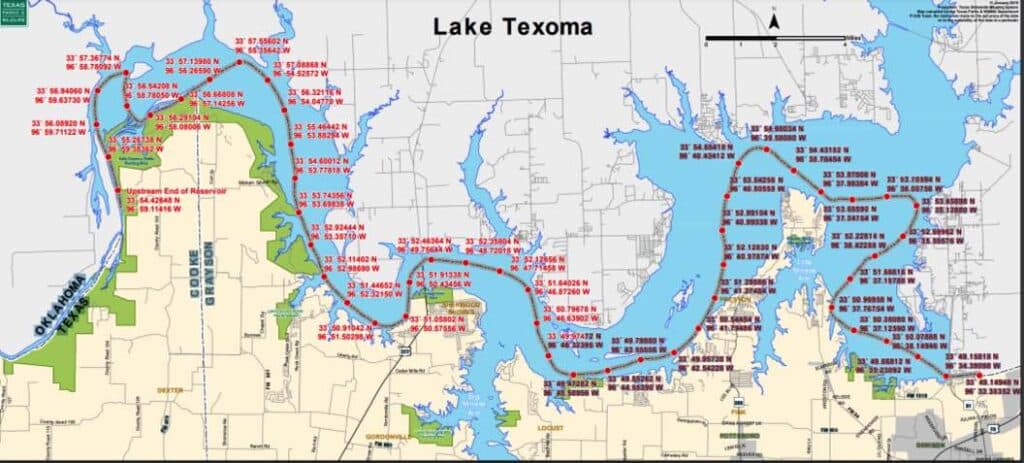 Why Do I Need a Fishing License?
A license is required due to the act of protecting the different fish populations. You may wonder why this is important or why it can be expensive, but there are reasons behind it that make sense. The money from purchasing a license can go toward stocking fish to ensure the possibility of a catch. The profits can also go toward conducting research and even habitat programs such as clean-ups.
Why fish Lake Texoma?
Lake Texoma is known as the "Striped Bass Capital of the World" and for good reason. The lake is the 12th largest lake in the US, with 88,000 acres of water and 1,250 miles of shoreline.
Every year more than 6 million visitors come to the lake for fishing and recreation.
Striped bass was first introduced to Lake Texoma in 1965 by the Oklahoma Wildlife Department. It is now recognized as one of the most recreationally and economically important fisheries in the state.
While other lakes with striped bass have to be re-stock Lake Texoma is one of the only few reservoirs where striped bass reproduce naturally.
If you are into Striper fishing, this may be your hot spot if you're lucky. There are several different spots around the lake including the North Island and West Burns Run that have been the best rated for fishing with great outcomes.
However, striper is not the only fish anglers can go after. Here are some of the other fish species you can catch on the lake.
Blue Catfish
Channel Catfish
White Bass
Striped Bass
Largemouth Bath
Spotted Bass
Smallmouth Bass
Black Crappie
White Crappie
Bluegill
Guided tours are also great fishing opportunities on the lake. Even though these tours are through guides, you still will need to obtain a Lake Texoma fishing license as guides will usually traverse both sides of the lake.
Here is our list of the Top 10 Lake Texoma Fishing Guides or if you'd rather go it alone here is one of the best Lake Texoma fishing maps you can buy. Plus don't forget to check out our Lake Texoma fishing report updated weekly.
You can find more information regarding these licenses and regulations at https://license.gooutdoorsoklahoma.com