Last Updated on June 16, 2023 by Ray Roman
The starting point of the Cross Timbers Hiking Trail is the Juniper Point recreation area. From there, the trail meanders about 15 miles west, following the southern shoreline and passing through Cedar Bayou, Rock Creek, and Paw Paw Creek Resorts.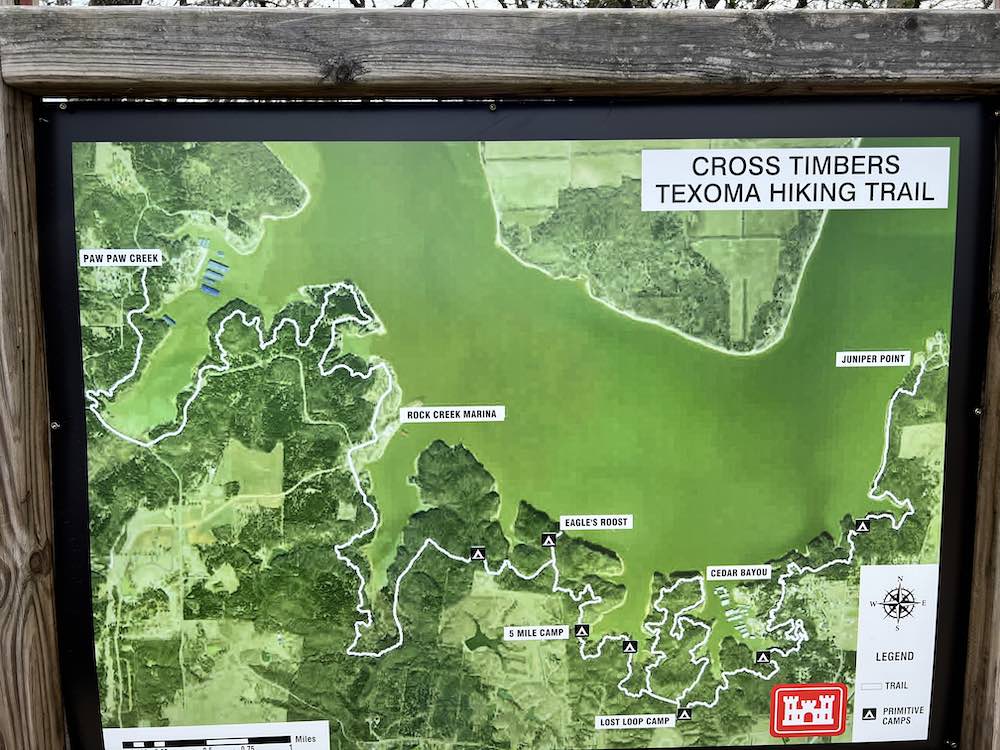 The initial section of the trail features various elevation shifts, but beyond Rock Creek, the terrain becomes more level with fewer trees.
The trail is clearly marked, with mileposts installed for guidance. It offers a moderate challenge, ideal for weekend explorations or as a training ground for longer journeys.
Cross Timbers Accommodations
Regarding accommodations, for those interested in camping along the trail, be aware that numerous wilderness campsites are sprinkled throughout the trail.
However, you must bring all necessary supplies, such as water, food, and firewood. For those who prefer a less rugged experience, recreational areas have amenities like running water and bathhouses.
Precautions
Water access is limited along the trail and is only available within developed parks. If you're intending to camp in one of the more rustic areas, it's recommended that you carry sufficient water for your needs.
Be aware that the hiking area is home to a variety of wildlife, including copperheads and rattlesnakes. It's essential to be cautious to avoid any unwanted encounters.
During the summer months, ticks, mosquitoes, and chiggers are quite prevalent, so carrying a reliable brand of insect repellent is advisable.
Please make sure to respect the trail and leave it as you found it. The trail is designed specifically for hiking, and motor vehicles are strictly forbidden. Please adhere to all trail rules and report any violations to a ranger.
Cross Timbers Hiking Trail Map Lake Texoma
Below is the USACE Cross Timbers Trail map. The trail is very well-marked so you probably don't need a map, but here is one just in case.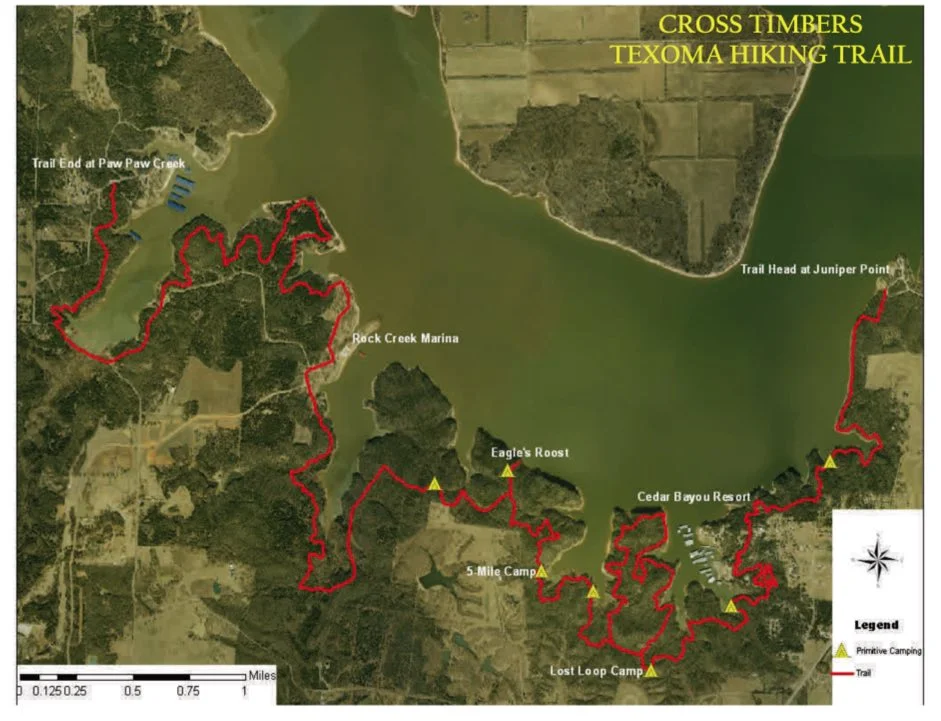 Cross Timbers Hiking Trail History
The Cross Timbers Hiking Trail was constructed by the Corps of Engineers in 1969. For six years after its establishment, from 1969 to 1975, the trail's maintenance was carried out by local Scout groups, the Dallas Chapter of the Sierra Club, the Texoma Outdoor Club, and the Corps of Engineers.
During the winter season of 1975-76, the trail underwent significant improvements: the wilderness camps were set up, a trail marking system was introduced, and it was officially named. The Corps of Engineers extends their gratitude for these groups' maintenance and support efforts.
Final Thoughts
In conclusion, hiking the Cross Timbers Hiking Trail offers an enriching, nature-filled adventure that brings immense joy and satisfaction. The trail presents a wonderful mix of diverse landscapes, varying terrains, and the chance to encounter an array of local wildlife.
It provides a moderate challenge that can be a thrilling part of a weekend getaway or a practice ground for more ambitious hiking endeavors. Whether you're a seasoned hiker looking for a fresh trail to conquer, or a beginner seeking to immerse yourself in the great outdoors, the Cross Timbers Trail offers an unparalleled hiking experience.
Embrace the journey, relish the serenity, and create lasting memories on the Cross Timbers Trail – a true delight for any hiking enthusiast.